From midnight 23/03 the UK Government have introduced significantly stricter measures to halt the spread of Coronavirus, including wider closure of shops and public places running all the way through to - gulp - limitations on movement and travel. Unprecedented in recent British history but, given the daunting challenge faced by our NHS, absolutely necessary as the 'nuclear' option to save further, unnecessary loss of life. This will be reviewed in a matter of weeks. Let's hope it works!
The good news? WE'RE STILL UP AND RUNNING!!
We're spared shutdown in the Mix - provided we remain extra vigilant - as the majority of our operation exists online and online retailers are classed as an essential part of maintaining a necessary level of normality for a strained populace, supporting an already taxed supply network (particularly in terms of vital foodstuffs) and to keep even a small part of our heavily handicapped economy alive.
Many of our fellow businesses, small or otherwise, are not in such a fortunate position but, for our part, we will do our very best to repay this stay of execution and, most importantly of course, keep you guys supplied with your favourite snacks, spreads and shakes, and keep up the high standard of service you demand and deserve.
'These are the times that try men's (and women's!) souls', folks...the next few weeks will be tough, but stay strong! We're all in this together and we WILL beat this. 👊
---
These are strange times, folks. Like you, with growing concern we've been closely following the unprecedented situation unfolding globally and, increasingly, on our own doorsteps here in the UK (even our GYMS have taken a hit!); the threat, mild though it may seem to some, cannot and must not be ignored until spread is brought under control and public & health services are given a chance to reinforce and are in a better position to care for those in most dire need and those we hold most near and dear...and at The Protein Pick and Mix? This not only means the team and their families but, of course, YOU! Our customers - our family of 'Mixers' - too! So...how are we doing?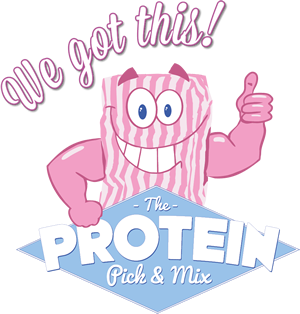 IN A NUTSHELL


(Last Updated

21/04/2020

)
✅ We remain fully operational online over here - with no sign of the dreaded virus - and are taking the utmost care to follow the latest guidelines as suggested by the Government, Public Health England, the NHS and, of course, plain ole' common sense.
✅ Meetings and events have been cancelled/postponed (including BodyPower 2020, sadly! See you there in October instead!) for the foreseeable to limit the team's exposure to external sources of the infection.
❌ Our Tunbridge Wells store is now, sadly, CLOSED A tough decision to make but, in solidarity with many of our fellow retailers (and ahead of a wider, more formal Government decision) a sensible precaution to further limit spread and to protect our team online fulfilment/order processing. 'Collect in Store' is currently still available for local customers.
---
🚚

SHIPMENTS

✈
✅ 🏠 UK Shipments: Networks remain operational to all areas but brace yourself for some delays as e-commerce order volumes are HIGH.

🟧 🌍 International Shipments: We're despatching as normal but expect 48hr delays or longer to most countries (especially Switzerland, Canada and Australia which have lengthy Customs processes at the best of times) Royal Mail International Services have been temporarily suspended due to the crazy delays we're seeing.
IMPORTANT
Workplaces are closing/being closed. Please give a home address if you think your workplace shipping address may be closing soon.
Please think twice before choosing 'ParcelShop' or 'Pickup-Point' delivery. Many stores/pickup-points aren't accepting parcels leading to long delays and returns.
Signature services have been suspended by all couriers. Parcels will be signed-for 'under authority' and photographs taken of the delivery/property. Many are unfortunately restricted to homes now so there's little chance of missing you, but please give the couriers 'leave safe' instructions if there's any doubt about the safety of leaving a parcel or if doors/porches hard to find.
Delivery time-windows (eg. 1hr) have been extended in some cases; the parcels are still coming but deliveries *may* be as much as an hour or two early/late.

The virus may have claimed our pubs and our gyms but, for our part, we will continue to despatch as swiftly and as often as we can...for as long as we can! 💪
---
This in mind, i'm pleased to report that, as a small, vigilant team, we're in a good position to not only comprehensively observe the necessary new, stringent hygiene protocols but we can more easily limit our own exposure to potential external carriers of the virus and, of course, swiftly recognise any signs of the virus in each of us, respecting the Government's suggested period of self-isolation and working from home that would bring.
The good news? And most importantly? As of now we have no Coronavirus cases in the Mix! Myself, the team and our families remain, thankfully, healthy and well (as, I sincerely hope, you reading this are too!)
Beyond that, we aim to continue to the best of our ability to ship you your goodies with the minimum possibility disruption at this tumultuous time; whether shakes and snacks to help you keep your calories and your daily protein up instead of facing a supermarket scrum or if you're just after morale-boosting sweet treats, we will do our utmost to provide in as prompt and colourful manner as ever!
To do this, as a predominately online/e-commerce business, beyond ensuring goods leave a virus-free warehouse (on top of the reassuring research suggesting that the virus has very limited ability to survive outside on surfaces once outside of the body) we obviously require delivery networks to remain operational and I am in regular contact with all 3 of our carriers - DPD, DHL and Royal Mail - and am closely monitoring this situation. At this time all networks have assured me they have stepped up their own hygiene protocols, washing hands and cleaning hand terminals between deliveries along with closely monitoring drivers and depot staff and, becoming increasingly important, reporting back on any issues with international deliveries and moving goods across borders.
Again, i'm pleased to report that i'm we're currently able to ship to all areas of the UK and delays are minimal despite a LARGE increase in e-commerce order volumes and, quite amazingly, relatively minor delays to International shipments which is due to increased checks/screening at borders and limited capacity on cargo flights. Across the board, if you know your country/address to be currently unable to receive shipments/allow access to couriers...please hold off from ordering! The LAST thing we want are huge delays, incurred fees, returns and lost parcels.
Delivery drivers have been given new permissions to deliver without signatures or to 'leave safe' to avoid personal contact to help ensure deliveries are safely made but please bear in mind that if you know your address/workplace to be currently closed or access restricted our couriers will have to respect this and delivery may fail.
Should this situation change we will notify you guys immediately and, if needs be, add notices on site to inform of potential delays and/or temporarily discontinued shipments to the worse affected countries.

This rapidly evolving situation is utterly without precedent in our lifetimes and we're all taking each day as it comes...working together? We'll get through this. Stiff upper lips, keeping calm and carrying on, and all! Stay safe out there, folks!! 🤗
Ant (Chief Mixer)
---
❌ The Protein Pick and Mix Store - Tunbridge Wells |

STORE CLOSED!
It's with much regret - but a solemn acceptance of our combined social duty of care - that our Tunbridge Wells store is now CLOSED 😢
Not an easy decision to make but we've no doubt that a formal Government decision on the closure of 'non essential' (and sadly we'd be this) stores across the country is imminent and, probably, wise. For our part, our online operations are paramount and so we are taking the precaution to limit risk and to concentrate on providing the best possible, uninterrupted service to our far wider customer-base across the UK, Europe and the rest of the world.
After goodies from the Mix? Please 'pick' away online here and we'll get your goodies shipped out and with you in no time at all!!
Hopefully we'll be able to review this soon but the sooner we can clamp down on things, the sooner we can halt this spread, avert a wider crisis and get back to normal!! We just need to grit our teeth and get it done! 💪
Thanks for your support, folks...take care out there!