Body Nutrition Trutein - Birthday Cake - 907g
Body Nutrition Trutein Protein Powder - Birthday Cake Flavour (907g/2lb)
Trutein is Body Nutrition's (formerly TruNutrition Sciences) flagship protein - an ultra-premium, multi-source protein powder designed for professional athletes and flavour connoisseurs. A gluten free, no-nonsense formulation, Body Nutrition's S'Mores Trutein offers a true sustained-release blend (45% Whey, 45% Micellar Casein & 10% Egg White), premium grass-fed dairy, is fortified with BCAAs, Glutamine Precursors and Prebiotic Inulin (added fibre!) and, quite simply, offers an unbeatable taste, texture and shake experience.
Trutein Birthday Cake flavour...what does it taste like? Just like Birthday Cake!! We ALL know how AMAZING Trutein's flavour systems are...for us - completely UNRIVALLED!! A strong Vanilla Sweet Sponge Cake taste with a hint of that super delicious birthday cake style 'butter creme' Trust us guys...you won't have had another protein powder like THIS before!
Trutein shakes up JUST with water to formulate the perfect thick and creamy shake!! NO need for any sort of milks - be it almond, soya, normal milk, honestly this stuff doesn't need it! However expect an even CREAMIER vanilla style suuuuper creamy shake if you do use any sort of milk!!
Trutein for us is the PERFECT intro to protein powders because the taste is BEYOND amazing!! Also with a GREAT complex and breakdown of amino acids and slow release casein/egg protein with the whey that will also hit the muscles IMMEDIATLEY!!
A Premium Protein with Nothing to Hide

Body Nutrition make no secret of the fact that Trutein employs a multi-source protein blend. They don't hide the percentages or protein split in this, their signature blend - in Birthday Cake Trutein: 45% Whey, 45% Micellar Casein, 10% Egg White. Simple as that.
Whey is less than half the cost of micellar casein and egg protein so, whilst other companies may hide the ineffective, low quantities of these more expensive protein sources they sneak into their 'proprietary blend' to make a label claim, Body Nutrition do not. With Body Nutrition you know exactly what you're buying and you can rest assured that you truly are receiving the highest quality formula available. No proprietary blends whatsoever.
On top of this, Body Nutrition only use the finest European-sourced Grass-Fed Dairy in their high-performance, premium Non-GMO protein powders; not only are we talking cows free of hormones and antibiotics, but ones free to happily graze in green pastures free of pesticides and heavy metals.
Why do I want a multi-source protein blend?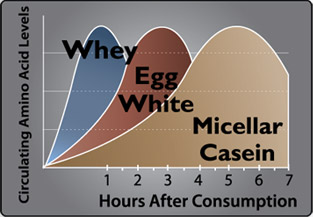 Body Nutrition Trutein contains three different forms of protein: whey, micellar casein and egg white. The benefits of supplementing with both micellar casein and egg white alongside whey are their very different rates of absorption. While whey is quickly broken down within an hour, egg proteins are absorbed within 2.5 to 3 hours and micellar caseins are digested over the course of 7 hours (see chart on the left!). Taken together, this means that Trutein promotes stabilized total-body amino acid saturation to continually fuel muscle synthesis; it fuels growth and recovery over an extended period.
Isolates for the win!
Trutein predominantly uses the "isolate" forms of whey and micellar casein (from milk protein isolate), processed using a nonthermal, cross-flow nanofiltration system, as opposed to the "concentrate" forms, which are less pure. For every 100 grams of whey or milk protein, the isolate form yields over 90 grams of pure protein, whereas the concentrate form yields only between 34 to 80 grams of pure protein with the remainder existing as fat and lactose. Isolates are also significantly pricier than concentrates. As such, it's no surprise that Body Nutrition S'Mores Trutein, as an ultra-premium protein supplement, maximizes its use of the superior isolate form because they know that professional athletes require the competitive edge that isolates offer.
Why Body Nutrition Trutein - Birthday Cake (907g)?
Literally unbelievable flavour and taste... MMMMMM cake!!!!
Tried & true sustained-released triple protein blend - 45% Whey, 45% Casein & 10% Egg White
Premium, European Grass-Fed Dairy
Over 7-hours of Total Body Amino Saturation - maximising anabolism (growth) and minimising catabolism
24g Protein, 5.6g BCAAs & 5.0g Glutamine Precursors per serving
Only 4g Carbs
Gluten Free, Wheat Free
100mg Trusorb Amino Acid Utilization Enzyme Module for increased amino acid uptake
2.5g Prebiotic Inulin (TruFiber) to promote digestive health and satiety
No Added Sodium
No Fillers
Body Nutrition Trutein - Birthday Cake flavour ingredients & nutritional information:
Serving Size: 1 Level Scoop (34g)
Servings Per Container: 27
2 Lbs. / 907g

Trutein Birthday Cake flavour

Serving Size:

1

Level Scoop

Servings Per Container

27

Amount Per Serving

% Daily Value*

Calories

120

Calories From Fat

10

Total Fat

0.5g

1%

- Saturated Fat

0.2

g

3%

Cholesterol

20

mg

6%

Sodium

115mg

5%

Total Carbohydrate

4g

2%

- Dietary Fiber

2.5

g

10%

- Sugars

1

g

Protein

24

g

47%

Protease Enzymes

100

mg

**

Vitamin A

0%

Vitamin C

1%

Calcium

24%

Iron

8%

* Percent Daily Values are based on a 2,000 calorie diet

** Daily Value not established
Ingredients: Trutein® Protein Blend(Pure Undenatured & Nonthermally-Processed Milk Protein Isolate, Cross-Flow Nanofiltered Whey Protein Isolate, Ultrafiltered Whey Protein Concentrate, Egg Albumen), TruFiber™ Inulin, Natural & Artificial Flavors, Xanthan Gum, Cellulose Gum, Guar Gum, Protease Enzymes, Acesulfame Potassium, Sucralose, Soy Lecithin
Allergen Statement: This product contains milk, egg and soy ingredients. Manufactured in a facility that also produces products containing peanuts.
Protein (per 34g serving):
24g
Carbs (per 34g serving):
4g
Dietary Fibre (per 34g serving):
2.5g
Fat (per 34g serving):
1g
Calories (per 34g serving):
120kcal
Gluten Free:
Yes
Low Fat:
Yes
Low Carb:
Yes
Low Sugar:
Yes
Caffeine Free:
Yes