Take A Whey - Protein Pancake Mix - 500g
Take A Whey Protein Pancake Mix - (500g - 20 Servings)
NEW to the Mix, New to the protein world, 'Take A Whey' is a friendly, super cute brand with ALL sorts of protein packed goodies!! From their NEW protein powders in ALL the fun flavours and now THIS awesome NEW Pancake Mix!! This awesome Mix coms in ALL the best flavours!! From just 'natural' - so you can make your OWN additions to 'apple cinnamon' and EVERYTHING in between - including chocolate and maple syrup!!
With 28g of protein per scoopt this super tasty easy to make pancake mix is a GREAT breakfast alternative when you want to switch things up whilst still maintaining your healthy protein-packed lifestyle!! It's super simple - just use one 50g scoop and mis with 150ml of water!! This should make two large pancakes OR a suitable stack of smaller pancakes!! We also like to use this awesome mix in our waffle irons!! Makes super light, fluffy waffles - crunchy on the outside soft on the inside!!
These cute 500g pouches contain 20 muscle-buidling servings of the TASTIEST and BEST pancakes around!! No more BIG tubs of protein filling up the kitchen just this little pouch of pancake-y goodness, easy and cupboard friendly!! Grab and go!
A WHOLE lot of love has been put into this brand and for us...it really shows!! The passion that must have gone into creating these little pouches with awesome illustrations, tag lines and some pretty impressive poetry style explanation of how EVERYONE needs protein, this stuff has taken 'fun' to the next level!!
Good formulation, 28g protein per serving! Only 176 calories per scoop! A wholesome protein soure - whey protein concentrate, you know what this means?! The PERFECT consistency!!
As the guys at 'Take A Whey' say - Everyone needs protein - It's brain food, it's energy, it's perfect for muscle recovery and strength!! A 'power food' even!!
Why Take-A-Whey Protein Pancake Mixes?!
Tastes SO good!
Wholesome Protein Source
Makes UNREAL pancakes
Awesome flavour range
28g Protein Per Serving
low sugar
Take-A-Whey Protein Pancake Mix - Ingredients & Nutritional Information: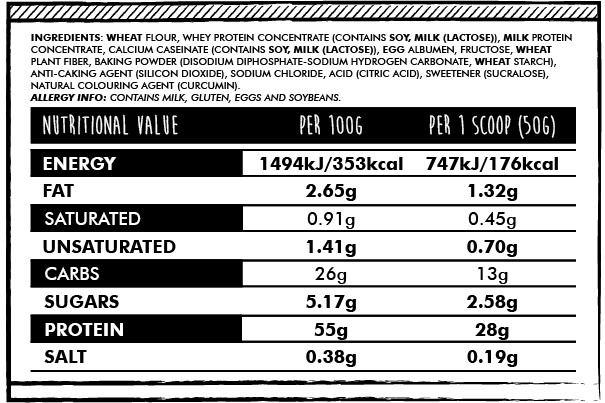 Protein (per 30g serving):
20.6g
Carbs (per 30g serving):
3.2g
Dietary Fibre (per 30g serving):
< 1g
Fat (per 30g serving)):
2.8g
Calories (per 30g serving):
121kcal
Low Fat:
Yes
Low Sugar:
Yes