The Jim Buddy '3 Pack' Trio
The Jim Buddy '3 Pack' Selection
Been searching all your life for a truly guilt-free, fresh-baked protein donut but have been left jaded, frustrated, empty-handed and long-faced? DO-Nut worry! Our good friend, Jim Buddy, has got your back!
Jim Buddy's Protein Donuts (or 'Pronuts', if you will!) deliver a selection of delicious, classic flavours, delivered entirely guilt-free, perfected in the Jim Buddy Bakery by Jim's own burly hands!
All Jim Buddy donuts marry a soft, moist ring donut with a generous iced-topping and are only made with carefully selected premium ingredients that wouldn't be out of place on the most fanatical of 'clean' diets! Even better, they come in at a very macro-friendly 99kcals or less a donut, no added sugar, low net carbs and up to 10g protein each!!
Get yourself a selection at Protein Pick and Mix today! Whether you want to try all the amazing flavours - from Peanut Butter through to Chocolate Orange and Banana Cinnamon - or maybe just stick to a bunch of each...just add 'em to your Mix!! Make it your very own mixed selection of delicious handmade protein doughnuts!!
Grab a bit of whatever you fancy...The choice is, literally, yours!
Mix and match your very own selection of Jim Buddy Protein Donuts today for only £7.95! It's time to have your cake ('donut'!!) and eat it too!
They're here!!
NEW & IMPROVED Jim Buddy's, made with a 'hole' lotta love!!
**Please don't freeze!! **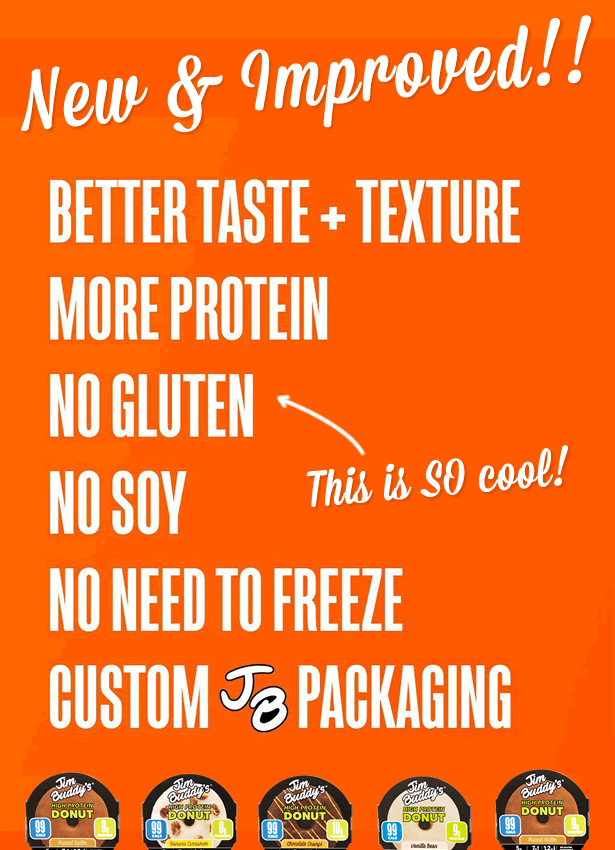 ---
This 'mix' includes...
The Jim Buddy '3 Pack' Trio
Just customise your very own 3 Handmade Donuts by selecting in the panels above, and add to your bag!
Get a few of each flavour...choice is, as always here, entirely yours! Let the indecisive inherit the Earth!! ;)
Vegetarian:
Yes
Low Carb:
Yes
Low Sugar:
Yes