Walden Farms Coffee Creamer - Hazelnut
6
Gluten Free
Vegetarian
Vegan
Walden Farms Calorie-Free Coffee Creamer - Hazelnut
Switch from sugary, traditional Coffee Creamers - that can easily add hundreds of calories to your diet! - and treat yourself to Walden Farms' Calorie Free Hazelnut Coffee Creamer. No calories, fat, carbs, dairy, gluten or sugars of any kind!
Walden Farms Calorie Free Hazelnut Coffee Creamer is made with rich natural flavors and natural hazelnut flavor
Great in coffee, smoothies, iced coffee, milk, cocktails, on french toast, with mixed berries and more...switch and save hundreds of calories every time, "The Walden Way."
From initial mucking around with these, they definitely come into their own in coffee (go figure!), shakes and drinks...but work OK giving new, gooey life to protein mug cakes and less-than-inspiring bowls of porridge and proats if syrups aren't your thing!

Why Walden Farms Calorie-Free Coffee Creamer - Hazelnut?
Fat Free
Sugar Free
Dairy Free and Vegan
Calorie Free
Carbohydrate Free
Cholesterol Free
Gluten Free
100% Guaranteed
Ingredients & Nutritional Information: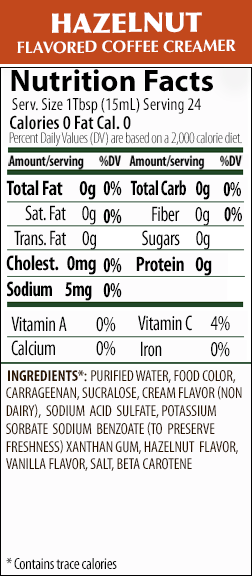 Refrigerate after opening.
"Wait...what?! NO calories at all? No fat...no sugar...no gluten...nothing?! No way!"
Yep...we hear you! We were a little incredulous ourselves at first but when Walden say 'Calorie-Free' it appears that they mean it! Even more unbelievable....it actually tastes pretty good! Really! As good as the real thing? Perhaps not but, ZERO CALORIES!!! Bear that in mind, and you'll be pretty blown away!
Protein (per 15ml serving):
0g
Carbs (per 15ml serving):
0g
Dietary Fibre (per 15ml serving):
0g
Fat (per 15ml serving):
0g
Calories (per 15ml serving):
0kcal
Gluten Free:
Yes
Dairy Free:
Yes
Lactose Free:
Yes
Vegetarian:
Yes
Vegan:
Yes
Low Fat:
Yes
Low Carb:
Yes
Low Sugar:
Yes