MuscleSport - Rhino Black Series Pumped - Pineapple
MuscleSport Rhino Black Series Pumped - (LIMITED EDITION) Pineapple - 40/20 Servings
MuscleSports Rhino Black Series 'Pineapple' Stim-Free Pre-Workout & Pump Enhancer! In the Mix now this awesome is way more than just a pump-enhancer!! This stuff packs eight potent pump inducing and nitric oxide enhancing ingredients!! But this isn't all folks!! Ohhhhh no.... this stuff also contains a solid trio of focus improving agents!! If you're dialled in to your workout, we all KNOW it can ONLY be a good thing. Focus leads to a better workout, a more driven workout, a workout thats going to leave you with nothing left!! Which is why Muscle Sport have added a nutrient uptake matrix to ensure maximum ingredient bioavailability for faster results and MUCH better recovery time!! You've got alllll you need dosed to perfection....made with research backed-ingredients!! A fully transparent label carefully selected to provide you with everything required for ultimate Pumps, Focus &
Soooo let's get down to ingredients... Here's why you should be choosing Rhino Black Series 'Pumped':
7000mg Citrulline Malate – Stimulates nitric oxide production. More training volume. Bigger pumps. Maximizes Muscle Growth & Repair
1000mg Nitrosigine® – The world's most effective form of arginine works synergistically with citrulline to maintain improved blood flow up to 3 hours. Meaning easier, faster nutrient absorption into muscles...meaning fuller, stronger and better recovery!!
1000mg PeakO2™ – Increases power and endurance
750mg Glycerol Monostearate – Blood Flow Enhancing & Fuller looking Muscle!!
600mg Alpha GPC – Enhances power outpu AND focus/mood enhancing.
100mg AmentoPump™ – Helps with vein dilation allowing blood to flow more freely, giving you monster pumps.
50mg Astragin® – Exclusive absorption enhancing ingredient proven to support ingredient bioavailability.
These ingredients are just the best of the best. Working synergistically to deliver unseeen levels of pump. More focus and nootropic feels than y'all are ready for!! Whether your loaded up with those much needed 'carbs' or not, Rhino BLACK has got your back when it comes to making sure that feel good, mood-boosting, increased blood flow pumps are felt (and seen of course)!!
'Pineapple' flavour?! Suuuuuper tropical, pineapple at it's best!! Think Lilt!!
20 Servings or 40 Servings?! What's all that about?
Tub servings depend upon desired intensity! For a full scoop, each tub contains 20 highly dosed, full servings...many people will find half a scoop more than enough for a killer workout, though (meaning each tub yields 40 servings!) Tweak to taste ;)
MuscleSport International Rhino Black Series Pumped - Pineapple
Ingredients & Nutritional Information: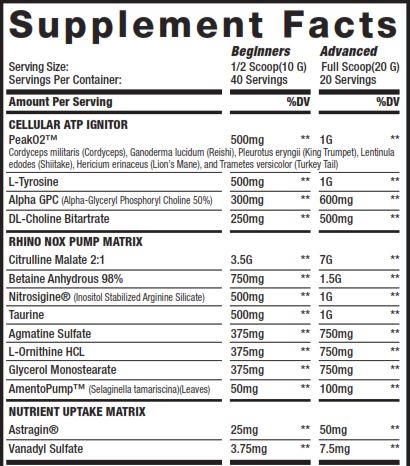 Ingredients: Taurine, Agmatine Sulfate,L-Ornithine HCL,Glycerol Monostearate, Glycerol (1,2,3-propanetriol), AmentoPump:AstraGin®, Vanadyl Sulfate, OTHER ingredients: Cluster Dextrin, Silicon Dioxide, Citric Acid, Natural & Artificial Flavours, Sucralose, Beet Root Powder (for colour).
Calories:
0kcal
Low Fat:
Yes
Low Carb:
Yes
Low Sugar:
Yes
Vegetarian:
Yes
Gluten Free:
Yes