MAN Sports Clean Protein - Cookie Stuffed Cookie **Best Before 30/06/18**
MAN Sports 'Clean Protein' Powder - Cookie Stuffed Cookie (736g, 1.6lb) **Best Before 30/06/18**
The guys at MAN Sports have released 'Clean Protein' of course...this stuff isn't JUST your average protein powder, the guys at MAN always take it that one step further, game-changing protein in some INCREDIBLE flavours!! Clean Protein is a FULL DISCLOSURE protein blend...there aren't many brands that are willing to do this, to go that extra mile so you guys know EXACTLY to the gram how much protein your ACTUALLY getting per scoop AND the amount of protein you are getting from each protein source!! This means you can be absolutely sure there is NO amino-spiking going on in this awesome Clean Protein formulation!!
Not only this but to the EXACT milligram you will be getting 5.33g of naturally occurring BCAA's!! Even better?! Each protein source used has been 'cold processed' thus meaning NO nutrients are lost from the direct protein source! However each source is NANO-FILTERED to ensure your getting the highest quality protein, meaning this stuff is super easy to digest which makes it perfect to have ANY time of day!!
Due to the formulation of protein sources you can also be sure you are getting fast and slow digestive rates from each different source!! So post-workout from the whey and milk protein Isolate you will get an INSTANT hit of protein STRAIGHT to the muscles which is GREAT for fast action recovery, followed by the whey concentrate which will begin realise just in time for the isolate to have done its job!! Lastly followed by Casein!! Known to release a slow and steady stream of protein to the muscles meaning you are covered for HOURS!!
No proprietary blends here folk's!! Just uncomprimising quality and flavour. Wow, we hadn't even made it to flavour yet...well WHERE to begin...'Cookie Stuffed Cookie' Yes this IS a thing...a cookie stuffed inside a cookie!! COOKIES ON COOKIES!! Unbelievably...this tastes EXACTLY how it sounds!! Cookie pieces, cookies & cream taste (kinda like oreos) with more chocolate...rich cookie sweet chocolate...a hard one to describe but a true cookie lovers HEAVEN, a flavour like NO other!! Not your 'average' cookies & cream flavour...NOT even close!! SO MUCH better! We still can't believe it!!
We could go on about how awesome this protein powder is...but it's over to you guys try it for yourself and prepare to be AMAZED!! Amazing mixability, shakes up perfectly NO lumps, just smooth, soft and creamy - no milk of any kind needed!!
Why MAN Sports Clean Protein - Cookie Stuffed Cookie Flavour?
FULL protein source disclosure
Awesome Formulation
5.33g Naturally Ocurring BCAA's
Micro-batch tested
24g Protein
Great mixability
JUST like melted COOKIES plus MORE cookies!!
Perfect for ANY time of day!!
MAN Sports Clean Protein - Cookie Stuffed Cookie flavour ingredients & nutritional information: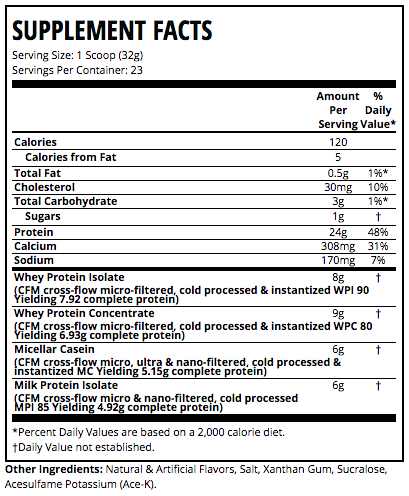 Allergen Warning: This product is manufactured with equipment that process products that may contain milk, egg, soy, tree nuts, peanuts, wheat, fish, crustaceans & shellfish. Contains milk and say (as soy lecithin).
Clean Protein does not contain soy protein.
STORE IN A COOL, DRY PLACE. CONTENTS SOLD BY NET WEIGHT, NOT VOLUME, SOME SETTLING MAY OCCUR.
Protein (per 32g serving):
24g
Carbs (per 32g serving):
2g
Sugars (per 32g serving):
1g
Fat (per 32g serving):
0.5g
Calories (per 32g serving):
120kcal
Gluten Free:
Yes
Soy Free:
Yes
Vegetarian:
Yes
Low Fat:
Yes
Low Carb:
Yes
Low Sugar:
Yes