Body Nutrition Gardenia Vegan Protein - Chocolate Cacao - 950g
UPC:

854917002547
4
Gluten Free
Vegetarian
Vegan
Body Nutrition - Gardenia All-Natural Gourmet Vegan Protein - Chocolate Cacao (950g/2.09lb)
Looking for a truly outstanding, amazing-tasting plant-based protein? Look no further!! Body Nutrition - loved for their marketing-leading, Protein Pick and Mix favourite TRUTEIN protein - have released the first raw, gourmet Vegan protein, 'GARDENIA'. Made with a blend of the finest sustainably-sourced organic, non-GMO pea, quinoa & hemp proteins and complemented by a selection of the very best greens and superfruits, the new Chocolate Cacao GARDENIA is a healthy-lifestyle fuelling, vegan taste sensation...a treat for vegans and non-vegans alike.
Finally...an All-Natural Vegan Protein that PUTS FLAVOUR FIRST!!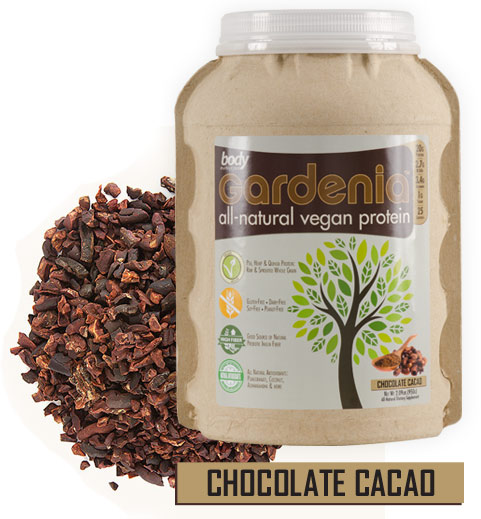 Body Nutrition's chief formulator, a 20 year+ veteran vegetarian, was not content with the state of the vegan protein market, and has always had the dream to fill a void -- just as Body Nutrition have done with the phenomenal Trutein -- to create the highest-quality product (in this case, a plant-based protein) that simply tastes AMAZING.
Too many other vegan proteins are overly earthy, grainy and very much a chore to drink. A struggle. But with new Chocolate Cacao GARDENIA protein, Body Nutrition have succeeded in crafting a vegan protein that is without a doubt one of the best tasting, multi-source formulas available...something that you'll look forward to drinking, savouring every sip!
This was 'love at first shake' for us at The Protein Pick & Mix! There's a wonderful, over-arching almond-essense to the blend (akin to Marzipan) and it compliments the natural Vanilla Bean perfectly!
Ok, we get it! It Chocolate Cacao Gardenia tastes great! But is the formulation really 'perfect'?
Body Nutrition do indeed refer to Gardenia's protein blend as 'perfect', and it's not hard to see why!! You couldn't hope to find a cleaner, more conscientious formulation! Body Nutrition Gardenia is...
Made with only Non-GMO, raw, sprouted and whole-grain minimally-processed pea, quinoa and hemp proteins (chosen for their complete amino acid profiles and sustainable harvesting).
20g of protein per scoop!
Full spectrum Amino Acid profile (Complete with 2.7g BCAAs & 3.5g Glutamine per serving)
Gluten-free, lactose-free, dairy-free, soy-free and peanut-free
Good source of natural prebiotic inulin fibre & flaxseed
Packed with all natural antioxidants thanks to Body Nutrition's 4000mg 'Phytosterol Blend' (see below for the awesome breakdown! Includes Acai, Maca, Coconut and all sorts of 'good green stuff'!!)
Added enzymes to aid digestion
No fillers, or added sugar, salt.
No synthetic or artificial ingredients
...AND that awesome taste and mixability, of course!!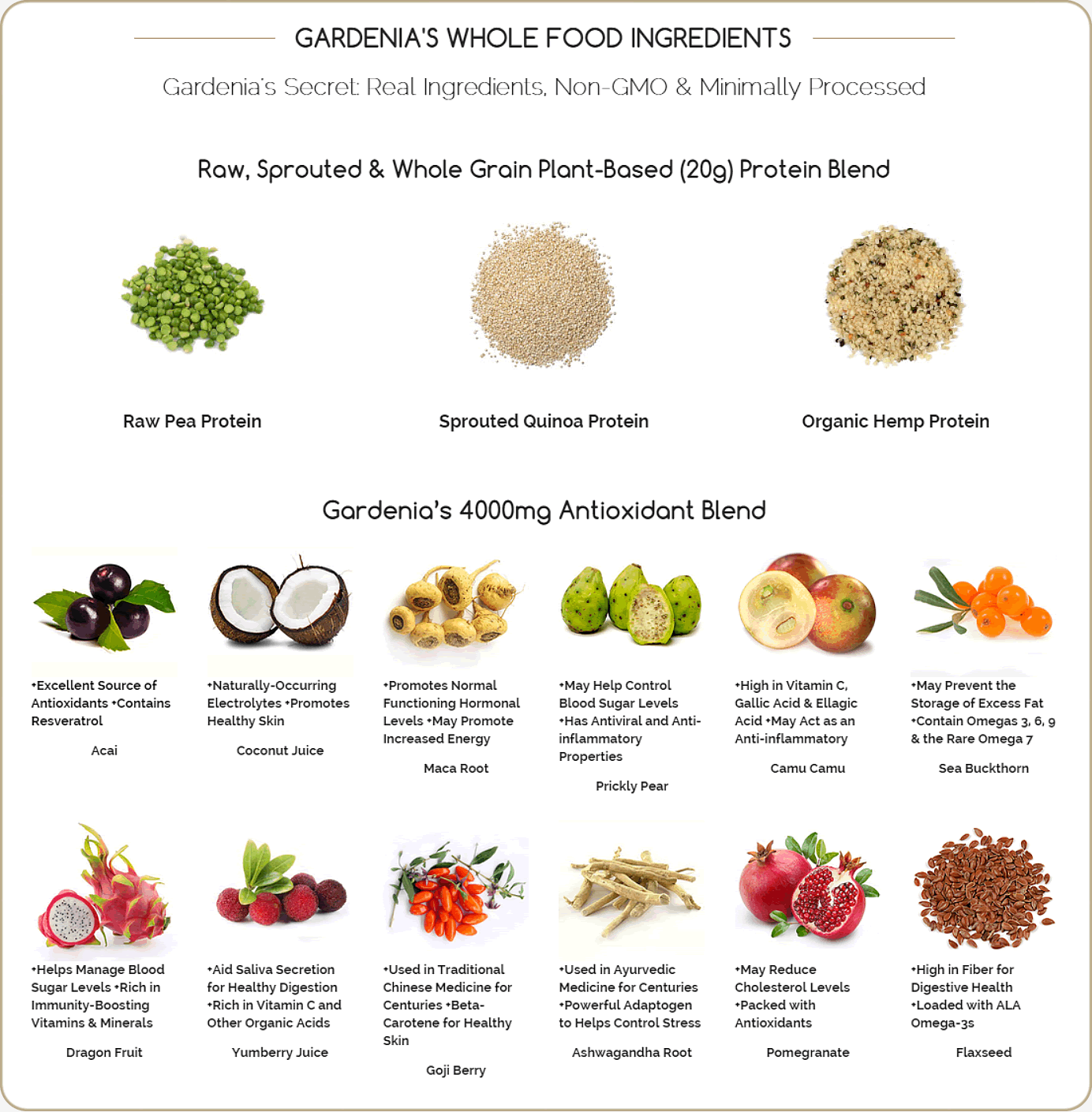 Body Nutrition Gardenia - All Natural Chocolate Cacao flavour ingredients & nutritional information:
Serving Size: 1 Level Scoop (38g)
Servings Per Container: 25
2.09 Lbs. / 950g

GARDENIA Chocolate Cacao flavour

Serving Size:

1

Level Scoop

Servings Per Container

25

Amount Per Serving

% Daily Value*

Calories

120

Calories From Fat

25

Total Fat

3

g

4%

- Saturated Fat

0.5

g

3%

Cholesterol

0

mg

0%

Sodium

30

mg

1%

Total Carbohydrate

7

g

2%

- Dietary Fiber

4

g

16%

- Sugars

1

g

Protein

20

g

40%

GARDENIA Vegan Protein Blend

20g

**

- Pea Protein, Quinoa Protein, Hemp Protein

Phytosterol & Antioxidant Blend

4g

**

Acai Vide, Coconut Juice, Maca, Cupuacu, Prickly Pear (Nopal), Seabuckthorn, Camu Camu, Dragon Fruit, Yumberry Juice, Goji, Ashwagandha, Pomegranate

Prebiotic Fiber & Omega-3 Blend

***

4g

***

- Inulin (from Chickory Root), Flax Seed (providing ALA Omega-3s)

Digestive Enzyme Complex

250mg

**

- Protease, Aminopeptidase, Hemicullulase

* Percent Daily Values are based on a 2,000 calorie diet

** Daily Value not established

*** Fiber content also drrived from Pea, Quinoa & Hemp Proteins
Other Ingredients: Natural Falvours & Monkfruit
Allergen Statement: This product contains coconut.
Protein (per 38g serving):
20g
Carbs (per 38g serving):
7g
Dietary Fibre (per 38g serving):
4g
Fat (per 38g serving):
6g
Calories (per 38g serving):
120kcal
Gluten Free:
Yes
Soy Free:
Yes
Dairy Free:
Yes
Lactose Free:
Yes
Vegetarian:
Yes
Vegan:
Yes
Low Fat:
Yes
Low Carb:
Yes
Low Sugar:
Yes