COULD YOURS BE


MIX OF THE MONTH?!
Watch this space, folks!! Mix of the Month tagging competition is on hold for now, but back BIGGER and BETTER soon!! 😉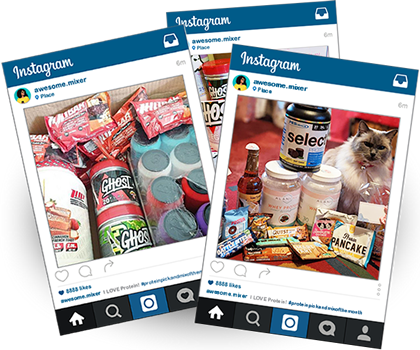 Competition on hold for now!
Back BIGGER and BETTER soon!

Yaaasss! How do I enter? 😁
Dead easy! Just upload your order photo (or photos! Want to go nuts posting loads? Fine by us!! 😂) to your personal Instagram account featuring the competition hashtag...
...by the end of each month and that's about it!!
We'll routinely check in and share some of our faves on our Instagram story and, come the end of the month, we'll deliberate our end and choose a suitably awesome winning post!!*
~ Competition on hold for now! Back BIGGER and BETTER soon! ~

Terms & Conditions
Post must be to INSTAGRAM and, as it must be visible until, at least, the end of the entry month when a winner is decided, post must be to your Instagram account/feed and not just to your story.
Multiple posts/entries are allowed but don't guarantee a greater chance of winning.
Competition/draw is open to UK customers only.
Shipping of prize may not be covered to some far-flung destinations...in these rare situations your prize will be added into your next order.
Here are our lucky winners so far!! 🎁
Oooh! I so wanna win! What should I post?! 🤔
No need to overthink it, folks! We're sure you're already buzzing to receive your carefully chosen goodies so just make a jumble of your haul - the cuter and more colourful the shot the better chance of catching our eye! 😉 - and take a pic!!
Looking for some inspiration? Well, we have a winners gallery kicking off above, but why not check out a few of our fave past posts from Mixers we've saved over the years (if you see one of your shots, please don't hesitate to give us a shout! Unfortunately, we hadn't saved all the usernames...love to give credit where credit's due, though!)