Burly Goods Co.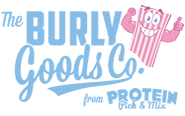 Well, we finally did it!! The Protein Pick and Mix has its own supplements!!
With various products in the works for YEARS and, after having had the pleasure of offering and recommending so many wonderful protein shakes, snacks and supplements made by others, we figured it was time to put our experience to good use and finally have some fun ourselves; under our new, colourful BURLY Goods Co. own-brand umbrella The Protein Pick and Mix's BURLY family of goodies are BORN.
Beginning this journey with our hero product, BURLY Shakes... quick and convenient, sweet and satisfying, these colourful protein shakes have been lovingly crafted by Team Protein Pick & Mix, to offer a delicious, easily-mixed blend of premium whey and milk proteins in, most importantly, fun, irresistible, bold & BURLY flavours, each dessert-y favourite inspired by our decade of dedication to sensational snacks!