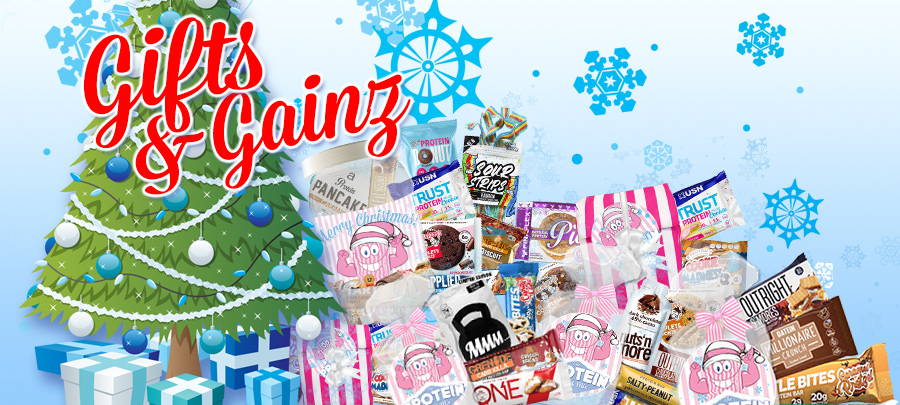 Ho, ho...here we go! Christmas is coming!! 🎄🎅🍫
From seasonal specials to our gift-wrapped goodie bag bundles, we have another awesome selection of cute gym-themed or protein-packed stocking-fillers for your loved ones (or, indeed, for yourselves!)
Merry 'Mixing', folks!
Giftable Bundle 'Mixes'...
(* Please see individual bundle listings for allergen info)
If you've been good all year? THIS is your reward (or your loved ones' reward!!)...the Holy Grail of festive protein snacking!! We have picked a bumper selection of our favourite protein snacks from this past year and beyond - it's ALL in here!! - and packed one of our cute sweet-shop style gift tubs to the very top with tasty guilt-free treats!!
What goodies will you find in this EPIC Favourites Mix?!
Grenade Whey Protein Sachet - Fudge Brownie
...for when too much is never enough!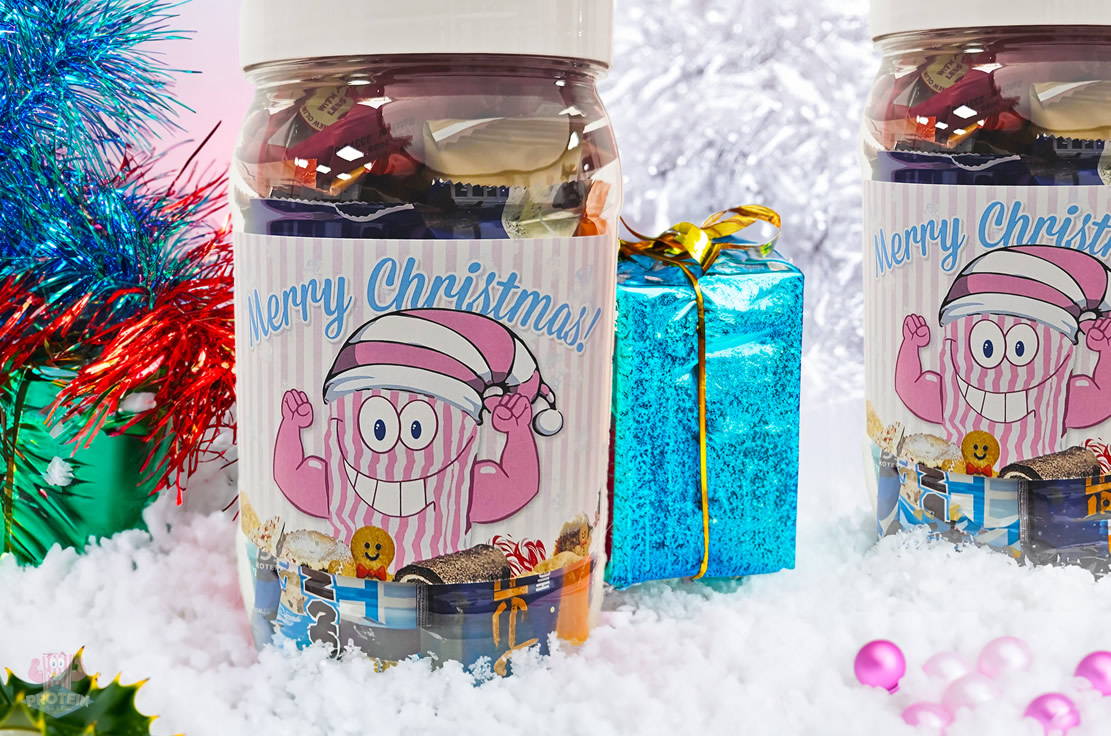 ...if Willy Wonka made protein bars
One of our bestselling bundles, this year we've also SUPERSIZED our Mars™ Protein gift bundle!! Packed to the brim with Mars's authentic, household-name, protein-infused Chocolate Bars this giant, bumper gift tub bundle is 'Celebrate the Gainz' with GAINZ, featuring 12 bars and all 12 irresistible flavours!
What Mars goodies will you find in this EPIC Mars tub?!
Celebrations with some seeeerious #gainz!
We have picked our favourite 'White Chocolate Wonderful' protein bars of 2023, from Protein Millionaire bars to the Grenade Oreo protein bar collab...it's all in there!! Nothing quite like the full-on sweet-treat decadence of white choc at Christmas!
What goodies can you expect to see in this cheeky little White Chocolate Mix?!
...let's make it a White Christmas!
...for those NUTS for nuts!
All Christmas Goodies in the Mix...
Whilst we have a crazy variety of flavours and tastes across the snacks and shakes at The Protein Pick and Mix we have to accept that, in nearly all cases, the Caramel (especially if it's 'salted'!) flavours come out on top!! A timeless classic and the ultimate succour for your sweet-tooth, enjoy some of our bestselling caramel-crammed bars of 2023 in the new seasonal 'Mix'!
What goodies can you expect to see in this crazily caramel-y Mix?!
...it's not only Santa who loves bakes @ Xmas!
All Christmas Goodies in the Mix...
Featuring some of our favourite plant-based treats from the past year (and beyond!), this 'best of' vegan snack selection offers protein cookies and protein bars. There's no need to be short of great-tasting high protein snacks if dairy is off the menu this festive season!!
What snacks can you expect to enjoy in this plant-based pack?
...dairyfree December? Easy, w/ treats this tasty!
...zingy, zesty, jam-packed and juicy!
Sprinkles have their place at Christmas just as any other time! The more the merrier! 🎊 Sweet vanilla, white choc, a touch of fruit and colourful sprinkles galore are the order of the day here...sure to put a smile on your face!
What goodies can you expect in this celebratory Mix?!
...Christmas is Jesus's birthday, right?!
All Christmas Goodies in the Mix...