Take-a-Whey Casein Protein Powder - 750g
Take A Whey Casein Protein Powder - (750g - 25 Servings)
'Take A Whey' Protein Powder in whole host of awesome flavours! This stuff has really taken us by surprise! A super smooth, super simple Casein blend; Casein is the perfect pre-bed protein shake! Casein will ensure protein-synthesis can continue even while you're asleep so your muscles get all the protein they need to promote lean muscle growth and maintenance! Its slow-absorption rate means your muscles get drip-fed protein for up to 11hours!!
Due to the nature of Casein Protein Powder these cheeky little shakes while be like drinking a super smooth whipped style shake!! Simple and perfectly balanced flavours. Easy mixability, no messing - shake & go! No lumps!!
A WHOLE lot of love has been put into this brand and for us...it really shows!! The passion that must have gone into creating these little pouches with awesome illustrations, tag lines and some pretty impressive poetry style explanation of how EVERYONE needs protein, this stuff has taken 'fun' to the next level!!
Good formulation, 22g protein, 107 calories per serving. Just over 3g carb and SO MUCH flavour! The PERFECT consistency!
As the guys at 'Take A Whey' have suggested...shake it or bake it!! Everyone needs protein - It's brain food, it's energy, it's perfect for muscle recovery and strength!! A 'power food' even!!
Why Take-A-Whey Casein Protein Powder?!
Tastes SO good!
Wholesome Protein Source
Great mixability
22g Protein Per Serving
Take-A-Whey Casein Protein Powder - Ingredients & Nutritional Information:
Serving Size: 2 Scoops 30g
Servings Per Container: 25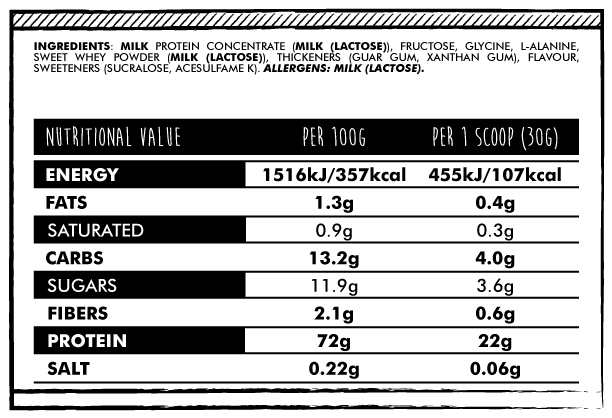 Protein (per 30g serving):
22g
Carbs (per 30g serving):
3.2g
Dietary Fibre (per 30g serving):
< 1g
Fat (per 30g serving)):
0.4g
Calories (per 30g serving):
107kcal
Low Fat:
Yes
Low Carb:
Yes
Low Sugar:
Yes
Vegetarian:
Yes