Yummy Sports Candies BCAA - Cherry Blast
Read more on the blog...
Delicious things and sports nutrition...a seemingly mutually exclusive pairing that we've ALWAYS made it our mission to bring together in the Mix, seeking out the most carefully and caringly formulated products offered in the best-tasting, fun and unique flavours.Well, we like to think we've done a pretty good job of this over the years but, [...]
Read more »
Yummy Sports Candies BCAA - Cherry Blast (40 servings, 280g)
Yummy Sports, an awesome young Canadian brand is a great fit here at the Mix! The fun, candy flavoured BCAAs, now with added electrolytes, sound great, look great and TASTE great!!As well as of course being the perfect supplement to hydrate you and fuel muscles whilst you're training these cheeky little Cherry Blast, sweetie flavoured BCAAs are awesome to sip throughout the day, whether at your desk or on the go!!
A 100% instantized blend, in the usual 2:1:1 ratio shaking up with only a hint of colour these super smooth amino's are here to 'catapult your athletic performance to the next level' as the guys at Yummy Sports pitch right on the side of the tub!! Amino acids are here to increase nutrient availability meaning your body can absorb nutrients better and send them RIGHT to your muscles for maximal effects during your workout!!
Containing essentially 0 calories with absolutely NO sugar involved. These BCAA's REALLY do a good job of reminding us of sweets!! Flavour here folks is 100% on POINT!! Quality, purity and most importantly incredible taste!! Coming in a BUNCH of sweetie flavours too folks....pick ya favourite candy flavour and give 'em a whirl guys!!
Why Yummy Sports Candies BCAA - Cherry Blast Flavour?!
Added Electrolytes
4.5g BCAAs
SUPER tasty!!
Helps Speed up recovery
Instantized
Plant-based (Vegan-friendly)
Yummy Sports Candies BCAA - Cherry Blast Flavour Ingredients & Nutritional Information:
Serving size: 1 scoop (7g)
Servings per Container: 40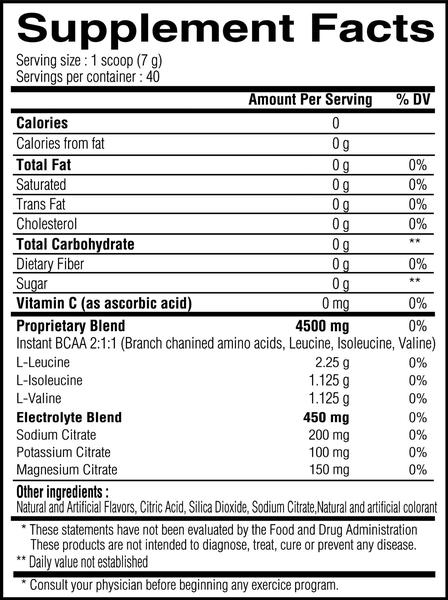 Manufactured in: Canada
Protein:
0g
Carbs:
0g
Dietary Fibre:
0g
Fat:
0g
Calories:
0kcal
Low Fat:
Yes
Low Carb:
Yes
Low Sugar:
Yes
Caffeine Free:
Yes
Vegan:
Yes
Vegetarian:
Yes