Jim Buddy Protein Donut - Vanilla Bean
Jim Buddy High Protein Donut - Vanilla Bean (58g)
Been searching all your life for a truly guilt-free, fresh-baked protein donut but have been left jaded, frustrated, empty-handed and long-faced? DO-Nut worry! Our good friend, Jim Buddy, has got your back!
Jim Buddy's Vanilla Bean Protein Donuts (or 'Pronuts', if you will!) offer a healthy take on the classic frosted donut! Sweet (really sweet!! You're going to love this, folks!) and simple with real vanilla pods for that gourmet touch, these Vanilla Bean donuts are guilt-free, perfected in the Jim Buddy Bakery by Jim's own burly hands!
All Jim Buddy donuts marry a soft, moist ring donut with a generous iced-topping (oh, don't worry...despite coming in at a very macro-friendly 99kcals or less a donut, only 5g net carbs and 9g protein, irresistible sweet icing is very much present!) and are only made with carefully selected premium ingredients that wouldn't be out of place on the most fanatical of 'clean' diets!
With his Protein Doughnuts - launched at BodyPower Expo to cacophonous acclaim - Jim Buddy's mission was to make 'cheat food' healthy ('cheat food'? You know what we're talking about! Come on, Krispy Kremes haven't only been tauting us!!); to make protein donuts that are not just a once-in-a-while-maybe-I-don't-need-to-feel-SO-bad-about-eating-this kindof thing, but actually a treat (and Jim Buddy donuts ARE a real treat!! You'll see!!) that can be part of the plan! And all this without sacrificing taste, the texture of a delicious handmade, fresh-baked donut or the fun of a sweet, indulgent frosting!!
Pre-workout, post-workout, breakfast, a pre-bedtime snack...it's all good!! Thanks, Jim! Now we really can have our cake (well, donut!!) and eat it too! :D
Why Jim Buddy Protein Donut - Vanilla Bean?!
They're justifiable donuts with added protein (enough said!)
Frosted and delicious
No added sugar

**NEW**

2 months shelf-life (do not freeze!)

**NEW**

No Gluten containing ingredients
Handmade in the UK
99kcals a donut
9g Protein a donut
Only 5g Net Carbs
High fibre
Fully UKAS Certified lab tested - macronutrient counts you can trust!
Jim Buddy Protein Donut - Vanilla Bean
Ingredients and Nutritionals:
Serving Size: 1 Soft Iced Donut
| | | |
| --- | --- | --- |
| | Amount Per Donut (58g) | Per 100g |
| Calories | 99kcal | 171kcal |
| Total Fat | 1.9g | 4g |
| - of which saturates | 0.4g | 0.7g |
| Total Carbohydrate | 26g | 45g |
| - of which sugars | 1.1g | 1.7g |
| - of which polyols | 14g | 24g |
| Dietary Fiber | 7g | 12g |
| Protein | 9g | 16g |
| Salt | 0.42g | 0.7g |
Ingredients: Egg White, Erythritol*, Gluten Free Oat Flour, Whole Egg, Pumpkin, Whey Protein Concentrate (Milk), Isomalto-Oligosaccharide** (Prebiotic Fibre), Gluten Free Baking Powder (Mono Calcium phosphate, Organic Corn Starch, Sodium bicarbonate), L-Glycine, Natural Flavouring, Emulsifier (Sunflower Lecithin), Vanilla Seeds, Thickener (Cellulose Gum), Citric Acid, Sweetener (Sucralose)
*Erythritol is a naturally occurring sugar alcohol.
** Isomalto-Oligosaccharide is a Prebiotic Fiber derived from plant sources.
They're here!!
NEW & IMPROVED Jim Buddy's, made with a 'hole' lotta love!!
**Please don't freeze!! **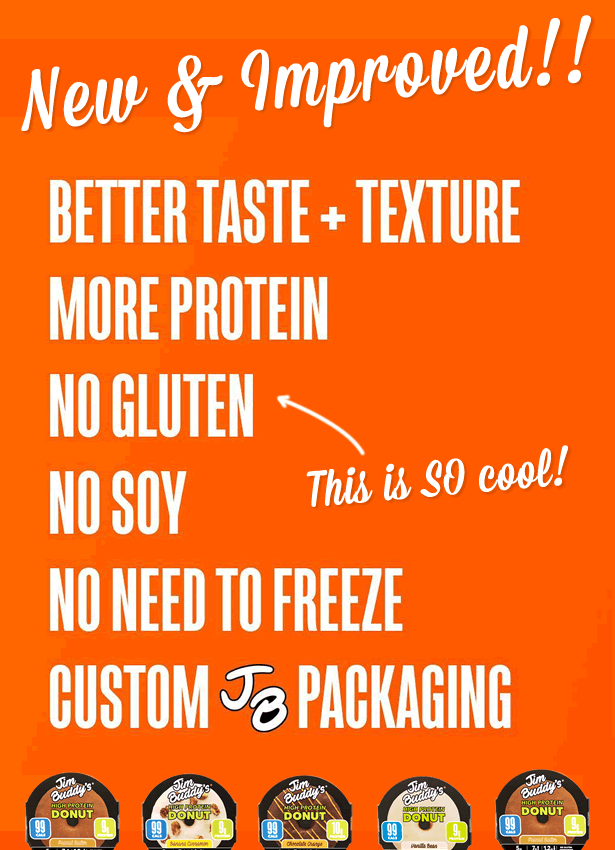 ---
** The NEW & IMPROVED Jim Buddy's Donuts **
Hold the front page...you don't need to freeze Jim Buddy's anymore!
Brand new Jim Buddy's have an astounding 6 months shelf-life!! And you don't need to freeze them (in fact, please don't!! This will ruin the special air-tight preservation seal!!) or even refrigerate them!!
No longer do we need to send your favourite guilt-free donuts out frozen...they're super-safe in their study new packaging and ready to enjoy right away!
Protein (per donut):
9g
Carbs (per donut):
26g
NET Carbs (per donut):
5g
Sugars (per donut):
1.1g
Dietary Fibre (per donut):
7g
Fat (per donut):
1.9g
Calories (per donut):
99kcal
Vegetarian:
Yes
Low Carb:
Yes
Low Sugar:
Yes