Read more on the blog...
...BOOM!!!Exploding into the Mix this week...brand new Cellucor C4 Zero Sugar Energy Drinks!!Sweet, super-charged and sparkling, these hazard-coloured C4 drinks look great and taste even better (Cellucor ALWAYS nail their flavours!), delivering all the legendary performance boosting effects of C4 Original (AKA. the World's most popular pre-workout!) but in a convenient grab-and-go can.Are we just talking caffeine [...]
Read more »
Cellucor C4 Zero Sugar Carbonated Energy Drink RTD (473ml)
From the guys at Cellucor, the makers of the best-selling C4 pre-workout. With SO many C4's to choose from...how about giving these super handy gym bag-friendly ones a go?! A zero-sugar energy and performance drink perfect for sipping when you find yourself short of energy. These badboys pack a REAL boost, with an awesome 'explosive performance energy blend' you've got all the components of the usual C4 goodness but now in RTD format!!
Canned, carbonated and SUPER tasty!! The same awesome energy, pumps and endurance you know and love from C4 original!! In 4 awesome flavours (so far)!! From Frozen Bombsicle to twisted limeade! Containing 200mg of caffeine + a hefty serving of beta-alanine (you know - the tingly stuff) all mixed up with a dose of Citruline Malate y'all going to be ready for whatever life throws at you!!
Zero sugar, Zero Carbs, Zero Calories. SO MUCH energy, focus and pump!!
Why Cellucor C4 Original Carbonated Energy Ready-to-Drink?!

200mg caffeine per can
Same awesome C4 effects!
Gym-bag friendly
No Sugar
No Carbs!!
Sustained Release energy
Ingredients & Nutritional Information: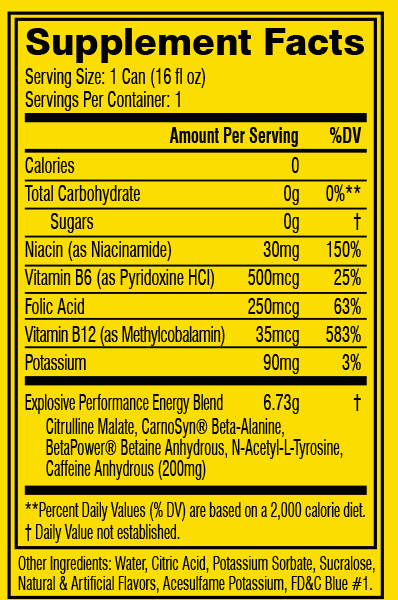 Warnings: THIS PRODUCT IS ONLY INTENDED TO BE CONSUMED BY HEALTHY ADULTS, 18 YEARS OF AGE OR OLDER. Do not use this product if you are pregnant, nursing, or are currently taking nitrates for chest pain or if you are taking medication used to treat erectile dysfunction such as PDE-5 inhibitors. Before using this product, consult a licensed, qualified, healthcare professional, including but not limited to, if: you are taking antidepressants such as MAOI (Monoamine Oxidase Inhibitor) or SSRI, blood thinners, nonsteroidal anti-inflammatory drugs, pseudoephedrine, or you are taking any other dietary supplement, prescription drug or over-the-counter medication; or if, you suspect you have or have been treated for, diagnosed with or have a family history of, any medical condition, including but not limited to: high or low blood pressure, diabetes, glaucoma, anxiety, cardiovascular, psychiatric or seizure disorders, cardiac arrhythmia, stroke, heart, liver, kidney or thyroid disease, or difficulty urinating due to prostate enlargement. This product contains caffeine and should not be used by individuals wishing to eliminate caffeine from their diet or in combination with caffeine or stimulants from other sources including but not limited to, coffee, tea, soda, or other dietary supplements and medications. Discontinue 2 weeks prior to surgery. Immediately discontinue use and contact a medical doctor if you experience any adverse reaction to this product. Do not exceed recommendations for Suggested Use. Use only as directed. Do not use if safety seal is broken or missing. Store in a cool dry place. KEEP OUT OF REACH OF CHILDREN.
Protein (per can):
0g
Carbs (per can):
0g
Fat (per can):
0g
Calories (per can):
0kcal
Caffeine (per can):
200mg
Gluten Free:
Yes
Vegetarian:
Yes
VAT:
Yes
Prohibited:
FR,DE